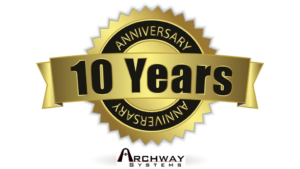 Fire Alarms, not for the Faint of Heart?
Market research indicated few, if any, resources available for the local installing alarm company wanting to enter the fire alarm business. Navigating the complex world of designing and bidding a moderate to large commercial fire alarm system was a daunting, if not insurmountable task. In response to this overwhelming need, in 2008, Archway Systems, LLC. was formed.
Archway began with the premise of providing alarm companies with technical assistance in dealing with cities, counties, Fire Marshals, any AHJ requiring approved plans prior to the installation of a fire alarm system. Archway's designers have over 75 years experience in the alarm industry, are NICET certified, and as time has passed have been called upon to assist dealers in other markets, i.e. access control, CCTV, and burglar alarms. In the past, most of this business has by default gone to the national firms and regional specialty houses. Now, with the help of Archway Systems, the local alarm company has a fighting chance!
Leveling the Playing Field!
Archway Systems employees are trained to listen. We certainly can't be of assistance to you if we don't know what you need! We want you to tell us your story. Where are you in the process, who are we dealing with, and what do they require. Our business is like most others in that it operates on the five W's; Who, what, when, where, and why.
At Archway Systems, our part of the equation is to provide the "how". Send us your plans. We'll determine your equipment needs, and provide you with an equipment list, complete your drawings, and provide you a complete submittal package for approval.
Upon your request we'll also maintain your library of system layouts and designs, thereby freeing you to concentrate on running your core business. Call us today, we'll help you add to your revenue stream by developing markets you thought were out of reach. You can contact us anytime Monday – Friday 8 AM – 5 PM CST by phone (816-709-3358), E-Mail ([email protected]), or on our Contact Us page!